We are pleased to announce that we have submitted an application for detailed planning consent, for the conversion of the existing buildings at the now-closed Lloyds Bank premises in the centre of St Martin (application number FULL/2023/1411).
The application has been submitted on behalf of the property's local freeholders, Esher Investments Ltd. The proposed conversion will create 14 studio residential apartments designed to meet the Island's much-publicised high demand for key-worker accommodation. It will not entail the construction of any new buildings.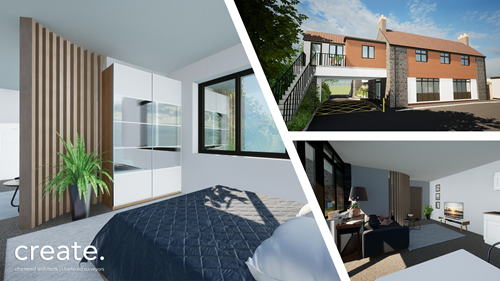 Current Use
The site comprises a detached purpose-built bank likely built in the 1970s, with a pair of single garages and a car park to rear. The principle detached bank building comprises a banking hall, with steps up to offices at front with internal stairs to first and second floor office rooms plus WCs. There is an internally accessed large basement with vault. To first floor there are a pair of externally accessed local market 2-bedroom flats.
Whilst closed, the building remains let to Lloyds Bank until early 2024. It is currently under Use Class 15 (Financial & Professional Services), though Use Class 16 (Administrative Offices was consented last month. Use Class 18 (Public Amenity) has also been recently consented.
See https://search.savills.com/property-detail/gb0409l111710 for an overview.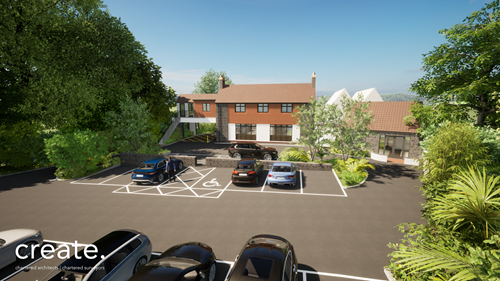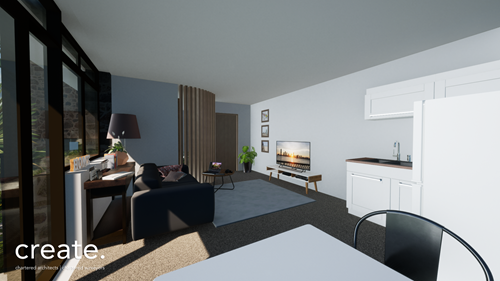 Scheme Details 
With a minimum statutory residential unit size of 30 sq.m the units range in size up to 43.28 sq.m. 13 units are complemented by their own generous dry-basement storeroom that has been created within the former bank's large vault, and ample on-site parking.
With 13 of the units within the main bank building, the fourteenth unit will be created by converting the pair of detached garages close to rear of the main building. This unit will have amenity space and store.
Bicycle parking for residents and visitors will be provided to the front forecourt area together with further outdoor seating and amenity space.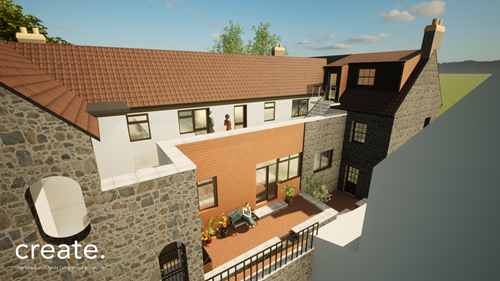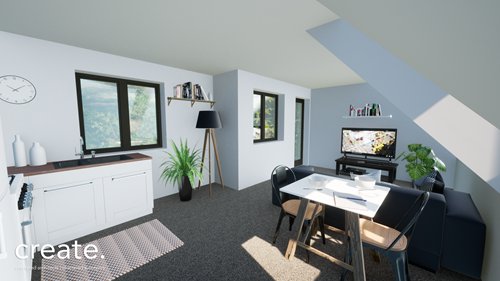 Ricky Mahy owner of Create and principal scheme architect, comments:
"The application represents the private sector working to assist with a problem currently reliant on the public purse. These are small, carefully formed apartments, highly efficient and sustainable with the reuse of an existing building. They can be delivered quickly with a low-carbon footprint. High-quality internal specifications will help make it innovative and progressive. The application addresses key-worker accommodation problems which will relieve pressure on long-term Local Market housing; the units are expected to be for rent. Whilst currently a private sector scheme, we welcome engagement with any of The States agencies in need of key-worker accommodation"
Savills are instructed as the scheme commercial property consultants and agents.